48in48 Social Justice Nonprofit Build Event 2023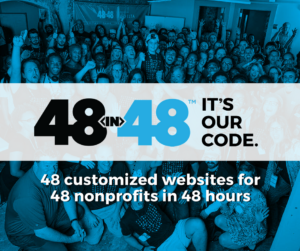 Theme: Amplify Diversity, Equity, Inclusion, and Justice
Rebirth Empowerment Education is truly honored to be chosen as one of 48 nonprofits to participate in the 48in48 Social Justice Nonprofit Build Event on June 23-25, 2023. This weekend event will provide brand new websites for nonprofits founded and run by Black, Indigenous, and People of Color (BIPOC) and nonprofits that focus on fighting for social justice. At the end of these 48 hours, Rebirth Empowerment Education along with 47 nonprofits around the world will have new, professional, mobile friendly, and accessible websites.
48in48, a 501c3 organization, mission is to mobilize marketing and technology volunteers to serve nonprofits worldwide. 48in48 signature events empower nonprofit organizations with tools they need to be more successful in achieving their mission by building 48 nonprofit websites in 48 hours.
"We are so excited for this opportunity to raise community awareness for those that work tirelessly to support and create justice for people of color. Our goal is to use our platform to unite passionate volunteers into action by using their skills to expand the digital capacity, and ability to impact, of nonprofits on the ground in diverse settings."
About Our Social Justice Build Team: #Sisterhood
The team of skilled based volunteers tasked to build Rebirth Empowerment Education new website consisted of seven women, #Sisterhood, of extraordinary talents from small business owners to employees of corporations. Combining their unique talents with an insatiable desire to make social impact, they help support this year's theme to Amplify Diversity, Equity, Inclusion, and Justice that is embedded in their personal and respective organizations' commitment to Social Justice and giving back to communities with their most valuable resources, time and talent.
It was a delight to work with our #Sisterhood Social Justice Build Team throughout the pre-planning and weekend build. They shared their knowledge and ideas, maintain communication, asked questions, and encourage feedback. While our volunteers were fast at work building our website, the 48in48 team hosted a virtual nonprofit impact lab with guest speakers who provided training to nonprofits on how to manage and maintain the new website. Insights on SEO, Social Media Marketing, Nonprofit AI Usage, and Accessibility were also covered in the training.
Rebirth Empowerment Education would like to express our gratitude to 48in48 and our #Sisterhood Social Justice Build Team of volunteers for helping Rebirth Empowerment Education in their first step to rebranding. The Skilled Based Volunteerism provided helps nonprofits like Rebirth Empowerment Education build capacity, sustainability, and impact.
Click here if you are interested in using your talents as a Skilled Based Volunteer with ReBirth Empowerment Education!